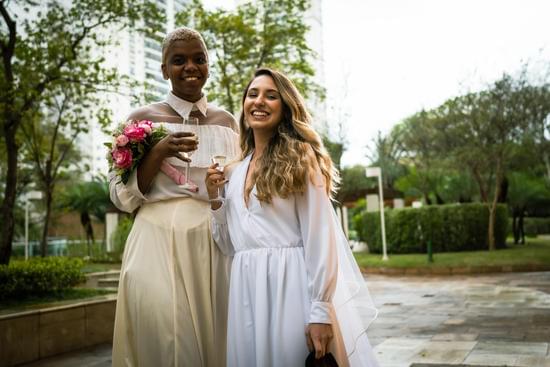 Are you a bride-to-be preparing to find the perfect gown for your big day? Look no further. In this article, we will provide you with essential wedding dress shopping tips to help make your experience as smooth and stress-free as possible. From setting a budget to making the final decision, we've got you covered with everything you need to know about finding the dress of your dreams.
When it comes to wedding dress shopping, having a solid plan in place is crucial. Setting a budget is the first step in ensuring that you are able to find a gown that not only looks stunning but also fits within your financial means. Researching different styles and finding the perfect dress for your body type is equally important and can make all the difference in how confident and beautiful you feel on your special day.
But before you dive into the world of bridal fashion, it's important to choose the right boutique and make appointments in advance. This allows you to have a personalized experience and ensures that you receive the attention and guidance needed throughout the process. Additionally, shopping with a support system can provide invaluable feedback and emotional support. With thorough preparation and our helpful tips, rest assured that your wedding dress shopping journey will be a memorable one.
Setting the Budget
Determine Your Budget: Before you start shopping for a wedding dress, sit down with your partner and decide how much you are willing to spend. Consider your overall wedding budget and allocate a reasonable amount for the dress. Remember to account for alterations, taxes, and accessories when setting your budget.
Research Prices: Once you have a budget in mind, research the average cost of wedding dresses in your area. Look at different bridal shops and online retailers to get an estimate of how much you should expect to spend on a gown that fits your criteria.
Stick to Your Budget: It's easy to get caught up in the excitement of trying on beautiful dresses, but it's important to resist the temptation to go over your budget. Be firm with yourself and only try on dresses that are within your price range. Keep in mind that there are many stunning options at every price point.
By setting a realistic budget and sticking to it, you can ensure that you find a beautiful wedding dress without compromising your financial stability or creating unnecessary stress during an otherwise joyful time in your life.
Researching Styles
When it comes to finding the perfect wedding dress, one of the most important factors to consider is your body type. Every bride is unique, and different dress styles will complement different figures. Here are some tips for researching styles and finding the perfect wedding dress for your body type:
Know Your Body Shape: Before you start looking at wedding dresses, take some time to identify your body shape. Whether you have an hourglass, pear, apple, or athletic figure, there are certain dress styles that will flatter your shape more than others.
Research Flattering Styles: Once you know your body shape, research which dress styles are most flattering for you. For example, A-line dresses are great for pear-shaped figures, while mermaid or trumpet-style dresses are perfect for hourglass shapes.
Consult with a Professional: If you're unsure about which styles will work best for your body type, consider consulting with a bridal stylist or consultant. They can provide valuable insight and recommendations based on their expertise and experience.
Finding the perfect wedding dress for your body type is an important part of the shopping process. By doing thorough research and understanding which styles will work best for you, you can ensure that you feel confident and beautiful on your special day.
Remember that every bride is different, so it's essential to find a dress that makes you feel comfortable and reflects your personal style. With the right amount of research and guidance from professionals, you'll be well on your way to finding the perfect wedding dress for your body type.
Choosing the Right Boutique
When it comes to selecting the perfect wedding dress shop, there are a few key factors to consider. First and foremost, it's essential to do your research. Look for boutiques that have positive reviews and a good reputation within the bridal industry.
You can start by asking for recommendations from friends or family members who have recently gotten married. Additionally, take advantage of online resources such as wedding forums and social media groups to gather information about different bridal shops in your area.
Once you have a list of potential boutiques, take the time to visit each one in person. Pay attention to the overall ambiance of the shop, as well as the level of customer service provided by the staff. A good bridal boutique should offer a welcoming and comfortable environment, with knowledgeable consultants who are genuinely interested in helping you find the perfect dress. Don't be afraid to ask questions and inquire about their selection of designers and styles.
Furthermore, consider the variety of wedding dress styles and sizes available at each boutique. It's important to choose a shop that carries a diverse range of gowns to accommodate different body types and personal preferences. Whether you're looking for a classic ballgown or a sleek mermaid silhouette, ensure that the boutique you select has options that align with your vision for your wedding day look.
| Factor | Tips |
| --- | --- |
| Research | Look for boutiques with positive reviews and a good reputation |
| In-person Visit | Prioritize welcoming environment and great customer service |
| Variety of Styles | Choose a shop with diverse range of gowns catering different body types |
Making Appointments
Scheduling Your Appointments
When it comes to scheduling appointments for wedding dress shopping, it's important to start early. Many bridal boutiques require appointments, especially on weekends, so be sure to call ahead and book a time that works for you. It's also a good idea to schedule appointments at multiple boutiques in one day if possible, so you can compare different styles and options.
Preparing for Your Appointment
Before your appointment, be sure to do some research on the styles and designers that interest you. Bring along any pictures or inspiration that you have collected so the stylist can get a better idea of the type of dress you're looking for.
Additionally, wear nude-colored undergarments and bring along shoes with a similar heel height to what you plan on wearing for your wedding. This will give you a better idea of how each dress will look on your actual wedding day.
Managing Expectations
It's important to keep an open mind when going into your appointment. While it's great to have an idea of what you like, don't be afraid to try on different silhouettes and styles recommended by the stylist. And remember, not every dress is going to look as amazing on the hanger as it does when it's actually on your body. Trust the process and keep your expectations realistic – but most importantly, have fun.
Trying on Dresses
When it comes to trying on wedding dresses, it's important to have the right expectations and mindset. First, be prepared for the fact that not every dress you try on will look exactly as you imagined. Keep an open mind and trust the expertise of the bridal consultants.
They have experience in helping brides find the perfect dress for their special day. Additionally, remember that sizing in bridal gowns tends to run smaller than regular clothing, so don't be discouraged if you need a larger size than usual.
To make the most of your dress shopping appointment, it's helpful to wear appropriate undergarments such as a strapless bra and nude underwear. This will allow you to better visualize how each dress will look on your wedding day. Also, bring along any accessories or shoes that you plan to wear with your gown. Being able to see the complete look can make it easier to envision yourself walking down the aisle.
Finally, take advantage of the mirrors in the boutique. Walk around in each dress and view it from all angles, ensuring that you feel comfortable from every perspective. Additionally, don't hesitate to take photos of yourself in each gown so that you can review them later when making your final decision.
| What to Expect | Making the Most of Your Appointment |
| --- | --- |
| Trust bridal consultants' expertise. | Wear appropriate undergarments |
| Be open-minded about how dresses may fit differently. | Bring along accessories and shoes. |
| Sizing in bridal gowns runs smaller – don't be discouraged. | Take advantage of mirrors and take photos. |
Shopping With a Support System
Shopping for a wedding dress is an exciting and emotional experience. It's important to have the right support system with you when trying on dresses, as their opinions can be valuable in your decision-making process. When choosing who to bring with you, consider family members or friends who understand your personal style and preferences. It's also beneficial to have someone with you who will provide honest feedback while still being supportive of your choices.
While it may be tempting to bring a large group of people with you, it's best to limit your entourage to just a few trusted individuals. Having too many opinions can make the decision-making process overwhelming and stressful. Additionally, bringing along too many people can take the focus away from what you truly want and need in a wedding dress.
It's important to remember that ultimately, YOU are the one wearing the dress on your big day, so your opinion should be the most important. The right support system should uplift and encourage you, helping you find a dress that makes you feel confident and beautiful. Trusting your own instincts and feelings about each dress is key in making the final decision.
Making the Final Decision
Comfort and Confidence
One of the most important things to consider when deciding on your wedding dress is how comfortable and confident you feel in it. When you put on the right dress, you'll not only feel beautiful but also comfortable enough to move, dance, and enjoy your special day without any discomfort.
Vision Alignment
Another crucial factor when making the final decision is ensuring that your chosen dress aligns with the vision you have for your wedding day. Whether it's a beach wedding or a traditional church ceremony, your dress should complement the overall theme and setting of your wedding.
The "Wow" Factor
Finally, it's essential to consider whether or not the dress gives you that "wow" feeling. If you can't stop thinking about the dress after trying it on and it makes you feel truly special, there's a good chance that you've found THE dress.
By carefully considering these factors and taking time to reflect on how each dress makes you feel, you'll be able to make an informed decision and confidently choose the perfect wedding dress for your big day.
Conclusion
In conclusion, finding the perfect wedding dress can be a daunting task, but with the right tips and preparation, it can also be an enjoyable and rewarding experience. Setting a budget and doing research on styles that complement your body type are essential first steps to ensure a successful dress shopping journey. Choosing the right boutique and making appointments ahead of time will help make the process more efficient and less overwhelming.
It's also important to bring along a support system when you go dress shopping. Whether it's your family, friends, or bridal party, having people whose opinions you trust can make all the difference in finding THE dress. And when it comes to making the final decision, trust your instincts and don't settle for anything less than what makes you feel absolutely stunning.
Remember that wedding dress shopping is meant to be an exciting experience, so try to enjoy every moment of it. Keep these tips in mind as you embark on your search for the perfect gown, and may your wedding dress shopping journey be stress-free and successful.
Frequently Asked Questions
What Are the Rules of Wedding Dress Shopping?
The rules of wedding dress shopping typically include making appointments at bridal boutiques, setting a budget for the dress, and bringing only a few close friends or family members to provide feedback. It's also important to be open-minded about trying on different styles and to consider the venue and theme of the wedding when selecting a dress.
How Far Out Should You Start Shopping for a Wedding Dress?
It is recommended to start shopping for a wedding dress at least 9-12 months before the wedding date. This allows enough time for multiple fittings, alterations, and any unexpected delays. Starting early also reduces the stress of finding the perfect dress and ensures that there are plenty of options to choose from.
How to Make a Bride Feel Special When Wedding Dress Shopping?
To make a bride feel special when wedding dress shopping, it's important to create a supportive and positive environment. This can be achieved by offering genuine compliments, actively listening to her preferences, and providing constructive feedback. Making the experience all about the bride and celebrating each dress she tries on can help create meaningful memories during this special time.