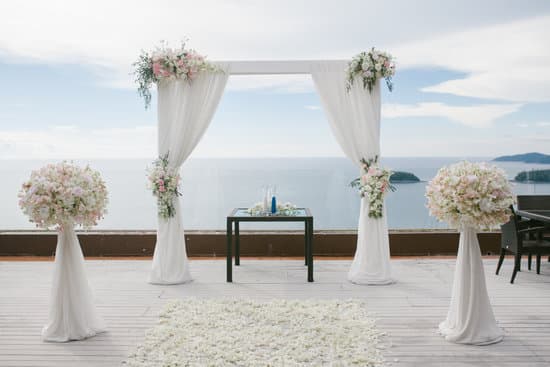 Are you planning a wedding and considering a garden theme? Garden wedding themes are becoming increasingly popular for couples who want to add a touch of natural elegance to their special day.
From the venue to the decor, there are endless possibilities for creating a romantic and beautiful garden wedding. In this article, we will explore everything you need to know about planning a garden wedding, from choosing the perfect venue to selecting the right attire and creating unique reception ideas.
When it comes to garden wedding themes, the options are limitless. Whether you envision a botanical garden with lush greenery or a more rustic setting surrounded by wildflowers, there is something for every couple's taste. The key is to find a balance between nature's beauty and your personal style, and we're here to guide you through every step of the planning process.
In the following sections, we'll delve into various aspects of planning a garden wedding. We'll discuss how to choose the perfect venue that complements your vision, offer tips on outdoor decor and floral arrangements that will enhance the natural beauty of your surroundings, explore attire ideas for both the bride and groom, and provide unique ceremony and reception ideas that will make your garden wedding truly unforgettable.
So get ready to be inspired as we take you on a journey through the enchanting world of garden wedding themes.
Choosing the Perfect Garden Venue
A crucial aspect of planning a garden wedding is selecting the perfect venue that complements the theme and ambiance you envision for your special day. When choosing a garden venue, it's essential to consider factors such as the size of the space, the layout, and the natural surroundings. Look for a location that offers natural beauty, such as lush greenery, colorful flowers, or scenic views, which will serve as a stunning backdrop for your ceremony and reception.
One popular choice for a garden wedding venue is a botanical garden, which provides an array of blooming flowers and plants to create a picturesque setting. Additionally, consider other outdoor spaces such as vineyards, estates, or even private gardens with manicured lawns and elegant landscaping. Whether you prefer a rustic and charming garden setting or an elegant and romantic atmosphere, there are various types of garden venues to suit every couple's preferences.
Furthermore, when deciding on a garden venue for your wedding, it's important to factor in practical considerations such as accessibility for guests and vendors, parking availability, and backup plans in case of inclement weather. Some venues may offer indoor options in case of rain or extreme heat. Ultimately, choosing the perfect garden venue sets the stage for an unforgettable celebration of love amidst nature's breathtaking beauty.
Outdoor Decor and Floral Arrangements
Garden weddings are known for their natural and romantic settings, making outdoor decor and floral arrangements a crucial aspect of the overall theme. When it comes to outdoor decor, there are endless possibilities to enhance the beauty of your garden wedding venue. Some popular ideas include:
1. String lights: Drape twinkling string lights across trees or along the reception area for a magical and enchanting ambiance.
2. Floral arches: Create a stunning focal point for your ceremony with a beautifully adorned floral arch that complements the surrounding natural beauty.
3. Aisle runners: Sprinkle flower petals or use lush greenery to line the aisles and create a picture-perfect pathway for the bride's entrance.
Floral arrangements play a significant role in bringing color and vibrancy to your garden wedding. Consider these floral ideas for your outdoor nuptials:
– Wildflower bouquets: Embrace the charm of wildflowers by incorporating them into bridal bouquets, centerpieces, and boutonnieres for a whimsical touch.
– Hanging florals: Add visual interest by hanging floral installations from trees or pergolas to create an ethereal atmosphere.
– Potted plants: Opt for potted plants instead of cut flowers as centerpieces, providing a more sustainable option while adding a natural element to your decorations.
With careful attention to outdoor decor and floral arrangements, you can elevate the beauty of your garden wedding and create a truly unforgettable experience for you and your guests.
Garden Wedding Attire Ideas
When it comes to planning a garden wedding, choosing the perfect attire for the bride, groom, and wedding party is essential to complement the natural beauty of the outdoor setting. For the bride, consider lightweight and flowy fabrics such as chiffon or lace that will not only look elegant but also be comfortable in a potentially warm environment.
A bohemian-inspired wedding dress with floral accents or a simpler silhouette with intricate back details are popular choices for garden weddings. In terms of footwear, opt for wedges or flats instead of heels to prevent sinking into soft ground.
For the groom and groomsmen, a more relaxed approach to attire is often preferred for garden weddings. Light-colored suits in shades like beige or light grey are a popular choice, paired with linen shirts for a breezy and casual look.
Consider incorporating floral ties or pocket squares to tie in with the natural surroundings and add a touch of whimsy to the ensemble. As for bridesmaids and groomswomen, pastel-colored dresses in soft, flowy fabrics are ideal for creating a romantic and ethereal look that suits the garden setting.
When it comes to accessories, flower crowns or hair vines are perfect for adding a touch of nature-inspired elegance to the bridal look. Brides can also opt for delicate jewelry pieces like pearl earrings or dainty necklaces that won't overpower their overall appearance.
Grooms can consider boutonnieres made from fresh flowers or foliage that complement the color scheme of the wedding. Ultimately, when choosing attire for a garden wedding, it's important to prioritize comfort while still maintaining an air of sophistication that suits the romantic outdoor setting.
Garden Wedding Ceremony Ideas
When planning a garden wedding ceremony, there are numerous ideas and options to consider. One popular choice is to have a floral arch as the focal point for exchanging vows. This creates a stunning backdrop for the ceremony and adds a romantic, ethereal touch to the event. Another idea is to incorporate natural elements such as stones or driftwood into the ceremony space, adding an organic and earthy feel to the surroundings.
For couples who want a non-traditional approach, arranging the guest seating in a circular pattern around the couple can create an intimate and inclusive atmosphere. Additionally, using hanging lanterns or string lights can add a magical ambiance to the garden wedding ceremony, especially if it takes place in the evening.
In terms of ceremonial rituals, planting a tree together or creating a unity garden can symbolize the couple's commitment to nurturing their relationship. Another beautiful gesture is releasing butterflies or doves at the conclusion of the ceremony, representing love and new beginnings. With careful planning and attention to detail, a garden wedding ceremony can be both enchanting and meaningful for all involved.
| Garden Wedding Ceremony Idea | Description |
| --- | --- |
| Floral Arch | A stunning backdrop for exchanging vows that adds a romantic touch. |
| Circle Seating Arrangement | Creates an intimate and inclusive atmosphere for guests during the ceremony. |
| Hanging Lanterns/String Lights | Adds a magical ambiance to the garden wedding ceremony space, especially in an evening setting. |
Unique Reception Ideas for Garden Weddings
When it comes to planning a garden wedding, the reception is an important part of the celebration. Here are some unique reception ideas that can make your garden wedding truly memorable.
Outdoor Lounge Area
Create a cozy outdoor lounge area with comfortable seating options such as couches, ottomans, and throw pillows. This will provide a relaxing space for guests to mingle and enjoy the beautiful surroundings. Consider adding string lights or lanterns to create a warm and inviting atmosphere as the evening progresses.
Al Fresco Dining
Instead of traditional seated dinner arrangements, consider hosting an al fresco dining experience for your guests. Long farm tables adorned with floral garlands can create a stunning visual impact while allowing guests to enjoy the natural beauty of the garden. Serve family-style dishes that showcase local and seasonal ingredients for a farm-to-table dining experience.
Interactive Entertainment
Incorporate interactive entertainment options that can engage your guests throughout the reception. This could include lawn games such as croquet, cornhole, or giant Jenga. Providing activities like a DIY cocktail bar or s'mores station can also add an element of fun and creativity to the celebration.
By incorporating these unique reception ideas into your garden wedding, you can create an unforgettable experience for both you and your guests. Embrace the natural beauty of the outdoor setting and infuse personal touches that reflect your style as a couple.
Garden Wedding Food and Drink Suggestions
When planning a garden wedding, one of the most important aspects to consider is the food and drink options for your guests. The outdoor setting provides a wonderful opportunity to incorporate fresh, seasonal ingredients and refreshing beverages that complement the natural surroundings. From hors d'oeuvres to dessert and signature cocktails, there are plenty of ways to create a memorable dining experience for everyone in attendance.
Seasonal Menu Selection
One of the best ways to enhance the garden wedding experience is through a seasonal menu selection. Work with your caterer or chef to create a menu that features fresh, in-season ingredients. Consider incorporating dishes that highlight the flavors of the season, such as grilled vegetables, fruit salads, and herb-infused entrees. For dessert, indulge your guests with sweet treats featuring berries or stone fruits that are at their peak during the wedding season.
Refreshments and Signature Cocktails
In addition to serving traditional beverages, consider offering signature cocktails that reflect the theme and ambiance of your garden wedding. Whether it's a floral-infused cocktail or a refreshing fruity concoction, these specialty drinks can add a unique touch to the celebration. You can also provide non-alcoholic options such as infused waters, lemonades, and iced teas to keep guests hydrated during the festivities.
Outdoor Dining Experience
For an unforgettable dining experience in a garden setting, consider options such as food stations or al fresco dining. Food stations allow guests to interact with different culinary offerings while enjoying the outdoor environment. Al fresco dining setups can include long banquet-style tables adorned with elegant tableware and centerpieces, creating an intimate and charming atmosphere for your guests to enjoy their meal.
By meticulously selecting food and drink options that complement your garden wedding theme, you can ensure that every aspect of your special day reflects the beauty and romance of an outdoor celebration. Whether it's incorporating seasonal flavors into your menu or creating signature cocktails inspired by nature, thoughtful consideration of these details will elevate your garden wedding into an unforgettable experience for all in attendance.
Planning Tips and Advice for a Flawless Garden Wedding
Planning a garden wedding can be both exciting and challenging, but with the right tips and advice, you can ensure that your special day goes off without a hitch. Here are some essential planning tips to help you achieve a flawless garden wedding:
Weather Considerations: One of the most crucial aspects of planning a garden wedding is considering the weather. Be sure to have a backup plan in case of rain or extreme heat. Consider renting a tent or finding an indoor space as an alternative venue.
Timing is Key: Choose the time of day for your ceremony carefully. Early morning and late afternoon tend to be the best times for a garden wedding, as they offer cooler temperatures and beautiful natural lighting.
Inform Your Guests: Make sure to inform your guests about the outdoor setting so they can dress appropriately. Providing additional details on your wedding invitation or website about footwear and clothing suggestions will help your guests feel comfortable and prepared for the occasion.
Protect Against Insects: Since your wedding will be outdoors, it's essential to take measures to protect against insects. Consider providing bug repellent or citronella candles to keep bugs at bay during the ceremony and reception.
By following these planning tips, you can ensure that your garden wedding is executed flawlessly, allowing you and your guests to enjoy the beauty of nature while celebrating this special moment in your lives.
Conclusion and Recap of the Best Garden Wedding Themes
In conclusion, garden wedding themes offer a romantic and picturesque backdrop for couples looking to tie the knot in a beautiful outdoor setting. From choosing the perfect garden venue to selecting the right decor, attire, ceremony ideas, reception concepts, and food and drink suggestions, there are endless possibilities to create a magical garden wedding. The key is to incorporate elements of nature and elegance into every aspect of the event.
As highlighted in this article, garden weddings provide an opportunity for couples to showcase their unique style and personality while immersing themselves and their guests in the beauty of nature. Whether it's a classic and traditional garden wedding or a more modern and whimsical affair, there are countless ways to bring a couple's vision to life in a garden setting.
In essence, planning a flawless garden wedding requires attention to detail, creativity, and thoughtful execution. By carefully considering all aspects of the event and incorporating personalized touches, couples can achieve their dream garden wedding that will be remembered fondly by all who attend. Ultimately, when it comes to garden wedding themes, the possibilities are as vast as the gardens themselves.
Frequently Asked Questions
What Is a Garden Theme Wedding?
A garden theme wedding is a type of wedding that incorporates elements of nature, such as flowers, greenery, and natural lighting. It often takes place in a garden or outdoor setting, creating a romantic and whimsical atmosphere for the celebration.
This theme typically includes soft color palettes, organic decor elements, and a focus on bringing the beauty of the outdoors into the wedding decor and ambiance.
How Do You Make a Garden Wedding?
To create a garden wedding, you'll want to choose a venue with beautiful outdoor landscaping or lush gardens. Incorporate natural elements like floral arrangements, foliage, and wooden accents into your decor. Consider using soft, pastel colors to complement the natural surroundings.
You can also add twinkling lights or lanterns for an enchanting evening ambiance. Providing comfortable seating areas among the greenery and choosing delicate floral details for your attire can further enhance the garden wedding experience.
What Is a Timeless Wedding Theme?
A timeless wedding theme is one that transcends trends and fads, focusing on classic elegance and sophistication. This type of wedding theme often involves simple color palettes, such as black and white or soft neutrals, along with traditional decor elements like crystal chandeliers or ornate table settings.
Timeless weddings are characterized by their gracefulness and understated beauty, creating an atmosphere that will never go out of style. These weddings often incorporate refined details that are both tasteful and enduring for future generations to appreciate.